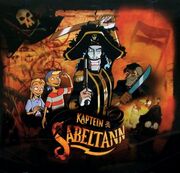 Kaptein Sabeltann (Sangene fra filmen + mange flere) en musikk-CD som ble utgitt i 2003 av Grappa Musikkforlag.
Den inneholder sangene fra tegnefilmen pluss noen til. Albumet innholder også engelske versjoner av noen av låtene.
Sporliste
Edit
1." Sjørøverne kommer"
2. "Her vi bor"
3. "Jeg kommer alltid tilbake"
4. "Hver gang en stjerne faller"
5. "Livet er herlig"
6. "Pinkys sang"
7. "Sabeltanns lov"
8. "Venner"
9. "Å, for et liv"
10. "Langemanns sang"
11. "Vi seiler vår egen sjø"
12. "Grusomme Gabriels spøk "
13. "This is home"
14. "I'll Be Searching"
15. "The falling stars"
16. " The ocean belong to us!"